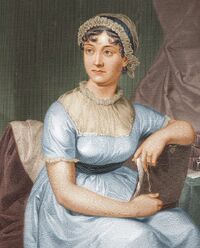 See also Jane Austen (biography) by June Dwyer.
Jane Austen is the author of Pride and Prejudice, Emma, Sense and Sensibility, Northanger Abbey, Mansfield Park and Persuasion. Her novels were all humorous views of the society in which she lived.
Jane Austen was born December 16th 1775 and died July 18th 1817.
Related
An aspiring author, David Lassman, tried an experiment sending copies of chapters of Austen's novels with only minor changes (like changing character names) to eighteen publishers. Of the eighteen, seventeen ignored or rejected the submissions. Only one "told him not to mimic ' Pride and Prejudice' so closely". [1]
References
External links

This article is a stub. You can help the Literawiki by expanding it.