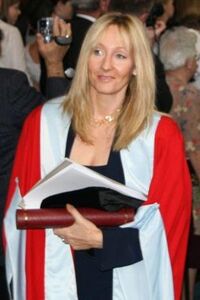 Joanne Rowling, who writes under the names J.K. Rowling and Robert Galbraith, (born July 31, 1965) is a British author best known for writing the Harry Potter series.
She adopted the name "J.K. Rowling" because her publisher thought boys would be less likely to read a book written by someone with a "woman's name". Rowling does not have a middle name but It was felt that "J. Rowling" would not look right. For the middle initial of her pen name she used her grandmother's name, Kathleen.
Profits from the Harry Potter series made J.K. Rowling one of the richest women in the world, and she became noted for her generous gifts to charitable causes.
Her reputation has become tarnished as a result of her opinions on gender identity that have offended trans women and their supporters.
Works
The seven volumes of the Harry Potter series:
Other works related to the Harry Potter universe:
Quidditch Through the Ages (2001)
The Tales of Beedle the Bard (2008)
"Harry Potter Prequel" (2008, short story)
Short Stories from Hogwarts of Power, Politics and Pesky Poltergeists (2016, e-book)
Short Stories from Hogwarts of Heroism, Hardship and Dangerous Hobbies (2016, e-book)
Hogwarts: An Incomplete and Unreliable Guide (2016, e-book)
Fantastic Beasts and Where to Find Them (2016, movie script)
Fantastic Beasts: The Crimes of Grindelwald (2019, movie script)
In May 2020, Rowling began publishing The Ickabog, her first children's book not set in the Harry Potter universe, for free on a dedicated website.
J.K. Rowling has written six non-Potter related novels for adults.
Writing as J.K Rowling:
The Casual Vacancy (2012)
Wring as Robert Galbraith:
The Cuckoo's Calling (2013)
The Silkworm (2014)
Career of Evil (2015)
Lethal White (2018)
Troubled Blood (2020)
All of the novels written under the pseudonym of Robert Galbraith are mysteries the protagonist of which is a private detective named Cormoran Strike.
Views on transgender people
In December 2019, J.K. Rowling posted on Twitter that she supported Maya Forstater, a British woman who lost her job with the Center for Global Development after saying, "Men and boys are male. Women and girls are female. It is impossible to change sex."
On June 6, 2020, Rowling took to Twitter to voice her objection to the use of the phrase "people who menstruate" in an article. Rowling insisted that the correct phrase is "women". She went on to write, "if sex isn't real, there's no same sex attraction. If sex isn't real, the lived reality of women globally is erased."
On June 10, 2020, J.K. Rowling posted a 1,600 word essay on her website in which she sought to clarify her views. Rowling wrote that she considered most transgender people to be vulnerable and deserving of protection. She also wrote, however, that as a survivor of domestic abuse and sexual assault, she believed that allowing trans women access to women-only spaces could put women in danger.
Many actors who have appeared in films based on J.K. Rowling's works have voiced their opposition to Rowling's beliefs about gender and voiced their support for the trans community. Those actors include Daniel Radcliffe, Rupert Grint, Evanna Lynch, Bonnie Wright, Katie Leung and Eddie Redmayne.
In July 2020, the Harry Potter-themed websites The Leaky Cauldron and MuggleNet issued a joint statement in which they called J.K Rowling's views on transgender people, "out of step with the message of acceptance and empowerment we find in her books and celebrated in the Harry Potter community". The Leaky Cauldron and MuggleNet have also decided to no longer display photographs of Rowling, link to her website or report on her achievements that are unrelated to the Harry Potter franchise.
External links
Community content is available under
CC-BY-SA
unless otherwise noted.