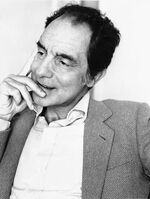 Italo Calvino (October 15, 1923 - September 19, 1985) was an Italian author and journalist. He was born in Cuba.
Works
Il visconte dimezzato, 1952 / (The Cloven Viscount) (1962)
Sotto il Sole giaguaro (1986) / (Under the Jaguar Sun) (1988)
Palomar (Mr. Palomar) (1985)
Le citta invisibili (1972) / ((Invisible Cities) (1974)
External links

This article is a stub. You can help the Literawiki by expanding it.
Community content is available under
CC-BY-SA
unless otherwise noted.