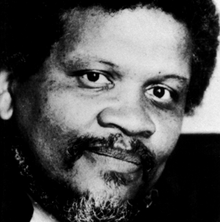 Ishmael Scott Reed is an American poet, essayist and novelist. He was born on the 22nd of February 1938.
Selected works
The Freelance Pallbearers (1967)
''Yellow Back Radio Broke-Down (1969)
Mumbo Jumbo (1972)
Neo-HooDoo Manifesto (1972)
Conjure: Selected Poems 1963-1970 (1972)
Chattanooga: Poems (1973)
Flight to Canada (1976)
Secretary to the Spirits (1978)
Shrovetide in Old New Orleans: Essays (1978)
The Terrible Twos (1982)
God Made Alaska for the Indians: Selected Essays (1982)
Reckless Eyeballing (1986)
New and Collected Poetry,1988)
Writing is Fighting: Thirty-Seven Years of Boxing on Paper (1988)
The Terrible Threes (1989)
Before Columbus Foundation Fiction Anthology: Selections from the American Book Awards 1980-1990
Tell My Horse : Voodoo and Life in Haiti and Jamaica (1990)
Airing Dirty Laundry (1993)
Japanese by Spring (1993)
Conversations with Ishmael Reed, ed. Amritjit Singh and Bruce Dick (1995)
References
Community content is available under
CC-BY-SA
unless otherwise noted.