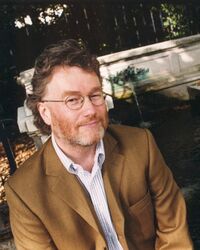 Ian Banks (February 15, 1954 - June 9, 2013) was a Scottish author who wrote his science fiction and fantasy fiction under the name Ian M. Banks. He is best known as the author of The Culture novels.
Biographyy
Iain Menzies Banks was born in Fife, Scotland in 1954, and was educated at Stirling University, where he studied English Literature, Philosophy and Psychology.
Bibliography
As Ian Banks
As Ian M. Banks
Other
Short fiction
External links

This article is a stub. You can help the Literawiki by expanding it.
Community content is available under
CC-BY-SA
unless otherwise noted.