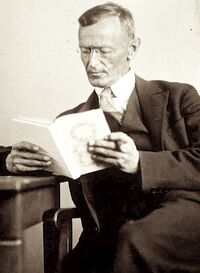 Hermann Hesse (2 July 1877 — 9 August 1962) was a German-Swiss author, poet, and painter. In 1946, he received the Nobel Prize for Literature. His best known works include Demian, Narcissus and Goldmund, Steppenwolf, Siddhartha, and The Glass Bead Game (also known as Magister Ludi) which explore an individual's search for spirituality outside society.
Works
1904–Peter Camenzind
1906–Beneath the Wheel
1910–Gertrude
1914– Rosshalde
1915–Knulp
1919–Klein and Wagner
1920–Klingsor's Last Summer
1922 –Siddhartha
1927 –Steppenwolf
1930 –Narcissus and Goldmund
1932–Journey to the East
1943 –The Glass Bead Game (also published under the title Magister Ludi)
External links
Community content is available under
CC-BY-SA
unless otherwise noted.