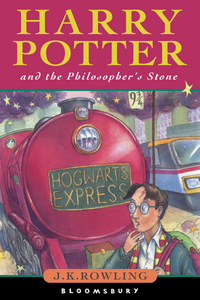 'Harry Potter and the Philosopher's Stone (published in the United States as Harry Potter and the Sorcerer's Stone') is the first book in the Harry Potter series of fantasy novels by J. K. Rowling. It was first published in 1997. A movie based on the book was released in 2001.
Plot
Harry Potter, the protagonist and title character, is a young orphaned boy who lives with his extremely conventional Aunt Petunia and Uncle Vernon Dursley and their spoiled son, Dudley. Odd things have always happened around Harry, and this is extremely disturbing to the Dursleys. On the days leading to Harry's 11th birthday, things get even stranger.
Harry begins to get lots of letters from Hogwarts School of Witchcraft and Wizadry, although Harry does not know where the letters come from because his Uncle Vernon rips them in half before Harry has a chance to read them. The letters soon start to appear from unusual places, including the fireplace. The Dursleys take Harry and go to a faraway cabin so no more letters can come into their house. Hagrid, the gigantic groundskeeper at Hogwarts, meets Harry there and informs him that he is a wizard. Mr and Mrs Dursley try in vain to prevent Harry from going to Hogwarts but Hagrid takes the boy away and introduces him to the wizarding world.
Awards
Harry Potter and the Philosopher's Stone won the following awards:
Nestlé Smarties Book Prize
British Book Award for Children's Book of the Year
The Children's Book Award
It was short-listed for the following awards:
1997 Carnegie Award
The Guardian Children's Award
External links
Community content is available under
CC-BY-SA
unless otherwise noted.