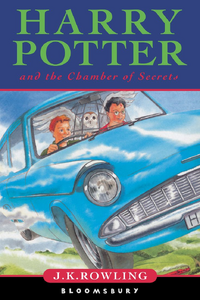 Harry Potter and the Chamber of Secrets is the second novel in the Harry Potter series by J.K. Rowling. It was first published in the United Kingdom in 1998 and in the United States in 1999.
In the novel, Harry and his friends are back at Hogwarts School for Witchcraft and Wizardry. Most of the students, teachers and other staff we met in the first book, Harry Potter and the Philosopher's Stone are back. The new first year class has at least two Harry Potter fans -- Ginny Weasley and Colin Creevey. We also get to meet a flying car, and Dobby, the house elf.
The next book in the series is Harry Potter and the Prisoner of Azkaban.
Awards and honors
ALA Notable Children's Books
ALA?YALSA Best Books for Young Adults
Booklist Editors Choice
Booklist Top Ten Fantasy Novels for Youth
British Book Awards 1998
CCBC Choice 200 Fiction for Children
Children's Book of the Year (NIBBY)
FCBG Children's Book Award 1998 Overall Winner and Longer Novel Category
International Reading Association Children's Choices
International Reading Association Young Adult Choices
Nestlé Smarties Book Prize 1998 Gold Medal 9-11 years
North East Book Award 1999
North East Scotland Book Award 1999
Publishers Weekly best Books of 1999
Scottish Arts Council Children's Book Award 1999
Whitaker's Platinum Book Award 2001
Shortlisted for the 1998 Carnegie Award
Shortlisted for the 1998 Guardian Children's Award
External links
Community content is available under
CC-BY-SA
unless otherwise noted.