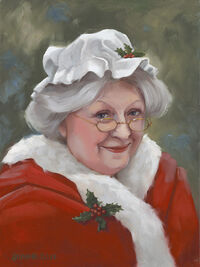 "Goody Santa Claus on a Sleigh Ride" (also known simply as "Goody Santa Claus") is a children's fantasy Christmas poem that was first published in 1889. It was written by Katharine Lee Bates, an American author and social reformer who is best known for writing the lyrics to the 1895 song "America the Beautiful". The title character and narrator of "Goody Santa Claus on a Sleigh Ride" is Santa Claus' wife.[1] In the poem, Goody Santa Claus thinks it is not fair that, although she does most of the work for Santa Claus, she does not get to join him when he delivers presents. She persuades her husband to let her accompany him when he goes on his gift-giving journey. Santa Claus does not want his wife to go down a chimney and leave a present in a child's stocking. Eventually, however, she gets to do just that. "Goody Santa Claus on a Sleigh Ride" is notable for being an early work of fiction in which Mrs. Claus figures prominently and in which she plays an active role.[2]
Summary
Santa Claus' wife, Goody Santa Claus, thinks it is unfair that her husband gets "all the glory" for delivering Christmas presents even though she does most of the work for him. According to the poem, Santa Claus is generally quite lazy and does hardly anything from one December to the next. He plays no part in the production of the toys and other gifts that he delivers because they all grow on magical Christmas trees. Those trees are all grown and cared for by Goody Santa Claus. In addition to cultivating those trees, Goody Santa Claus also has to raise the Thanksgiving turkeys and rainbow-colored hens that lay Easter eggs.
Goody Santa Claus manages to persuade her husband that, as a Christmas present and as a reward for all of her hard work, she deserves to go with him when he delivers gifts. In the sleigh pulled by reindeer, the two of them leave the fantasy world that they inhabit, watched by the Man in the Moon and angels on each of the stars as they do so, and enter the world of ordinary mortals. Goody Santa Claus watches as her husband goes down several chimneys to leave presents in children's stockings. It is she who insists that Santa Claus does not pass by the home of one poor girl without leaving her anything. The girl's father is a poet who cannot afford either light or fuel. At Goody Santa Claus' insistence, a fallen star is left as a light for the girl's father to write by and she is left a sash made of sunlight and a music box made of rain. Goody Santa Claus points out that she has not been allowed to go down any chimneys and leave presents in stockings herself, something that Santa Claus continues to obstinately refuse to let her do.
Dawn approaches. Goody Santa Claus thinks that all of the children have received their presents. She then realizes that an orphan named Tatterkins has not yet been given anything. Santa Claus tries to deliver a present to Tatterkins but finds that he cannot because there are holes in the heel and the toe of the boy's stocking. Goody Santa Claus then goes down the orphan's chimney. Using an icicle as a needle and a moonbeam as thread, she mends his stocking and leaves a box of paints in it.
It is Christmas morning and happy children are starting to wake up. Goody Santa Claus is happier than any of them because her husband has given her the wonderful present of letting her join him on his sleigh ride.
See also
Footnotes
↑

"Goody" is a variant of "goodwife", an archaic word meaning "female head of a household" that was used as a title of respect for women. "Goody Santa Claus" essentially means "Mrs. Santa Claus".

↑ The earliest known reference to Santa Claus' wife appeared in print forty years earlier in the 1849 short story "A Christmas Legend" by James Rees, an American author and Christian missionary.
External links
Community content is available under
CC-BY-SA
unless otherwise noted.