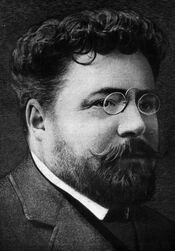 Gaston Louis Alfred Leroux (May 6, 1868-April 15, 1927) was a French journalist and fiction author who is best known internationally as the writer of the 1910 horror novel The Phantom of the Opera. Leroux wrote thirty-nine novels during the course of his writing career, thirty-eight of which were published during his lifetime. He also wrote a number of short stories and co-authored two plays.
Leroux was born in Paris and attended school in Normandy. He studied Law at university in Paris and graduated in 1889. In 1890, he began writing on legal affairs for the newspaper L'Echo de Paris and also served as the paper's drama critic. His career as a journalist progressed when he became international correspondent for another Parisian newspaper, Le Matin. Leroux covered the Russian Revolution of 1905 for the newspaper.
In 1907, Leroux left journalism and began writing fiction. His first novel was a mystery called La Mystere de la chambre jaune (The Mystery of the Yellow Room). The main character in the novel is an amateur detective named Joseph Roulebaille. Leroux went on to write six more novels that featured Roulebaille. He is considered a pioneer of detective fiction in French, much as Edgar Allan Poe is considered a pioneer of English-language detective fiction.
Leroux died in the city of Nice, on the south coast of France.
External links
Community content is available under
CC-BY-SA
unless otherwise noted.