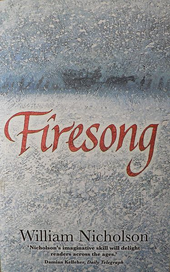 Firesong is the third and final book in William Nicholsons Wind on Fire fantasy trilogy. It was first published in 2002. The book follows the Manth people on their journey to their homeland.
Plot
The Manth people are marching from the burnt shell of the mastery, and towards their homeland, unofficially led by Hanno Hath, they follow the vision of Ira Hath, but as they yet near to the homeland Ira's strength wanes, and their food depletes.
Meanwhile, Bowman, Ira and Hanno's son, Prepares himself for summons from the singer people, the original Manth, Bowman belives he must sacrifice himself in a battle against Morah, an evil power in the world, before this he must be trained by Albard, the Master of the ruined Mastery. Kestrel, Bowmans twin sister, leaves with her brother for his training, However, Bowman knows they must be parted.
Eventually it is revealed that Kestrel must be the one to give her life, and Bowman, angry at her charging in on what he had been waiting for his entire life, launches into singer combat with her, going easy on her, Bowman nonetheless struggles with him self. In the end he enters his sisters mind, dismayed at her certainest that she's right, along with her fierce sense of brother, retreats and allows her to leave with the Singer people.
The climax of the trilogy finds Kestrel dead and Bowman married to Sisi, the two become rulers of a great new civilisation, the kingdom of Gang.
Community content is available under
CC-BY-SA
unless otherwise noted.