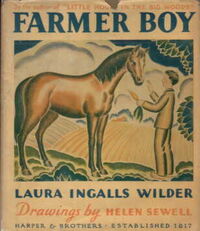 Farmer Boy is one of the novels in Laura Ingalls Wilder's Little House series. It was first published in 1933. Farmer Boy is based on the childhood experiences of the author's future husband. It tells about the daily life of Almanzo Wilder, a boy living on a large farm in northern New York in the mid 1800s. Almanzo has conflicted feelings about school and chores, loves donuts and dreams of being allowed to break his own horse.
This book is the second in the Little House series. It follows Little House in the Big Woods and precedes Little House on the Prairie. But, because the storyline occurs independently, it can be read before or after those books without creating issues with the timeline of the stories. While all three stories occur during roughly the same time period, the two children, Laura and Almanzo lived in different parts of North America in fairly different settings -- the "untamed" west and settled farm country. Both grew up in rural settings. And like all the books in the series, Farmer Boy tells about how things were done before electricity was common in homes and when most travel was on foot or by horse.
External links
Community content is available under
CC-BY-SA
unless otherwise noted.