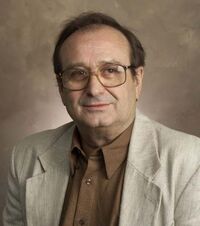 Eric Flint (born February 6, 1947) is an American alternate history, fantasy and science-fiction author. His works include short stories and novels, many of them written in collaboration with other writers.
He won the 1993 Writers of the Future contest, and published his first novel in 1997.
Published works
Belisarius series
(with David Drake)
An Oblique Approach (1998)
In the Heart of Darkness (1998)
Destiny's Shield (1999)
Fortune's Stroke (2000)
The Tide of Victory (2001)
The Dance of Time (2006)
Assiti Shards universes
The Assiti Shards universe is a fictional universe invented by Eric Flint. It is a shared universe open to authors of many calibre levels, concerning several alternate history worlds.
The 1632 series
1632 (2000)
'1633 (2002) with David Weber
Ring of Fire Short story collection
1634: The Galileo Affair (2004) with Andrew Dennis
Grantville Gazette I' (2004)
Grantville Gazette II (2006)
1634: The Ram Rebellion (2006) with Virginia DeMarce
1634: The Baltic War (2007) with David Weber
1635: The Cannon Law (2006) with Andrew Dennis
1634: The Bavarian Crisis (2007) with Virginia DeMarce
Ring of Fire II (2008)
Heirs of Alexandria series
(with Dave Freer and Mercedes Lackey)
The Shadow of the Lion (2002)
This Rough Magic (2003)
A Mankind Witch (2005)
Joe's World series
The Philosophical Strangler (2001)
Forward the Mage (2002 with Richard Roach)
Rats, Bats and Vats series
Rats, Bats and Vats (2000) with Dave Freer
The Rats, The Bats and The Ugly (2004) with Dave Freer
Further collaborations
Honor Harrington series with David Weber

Changer of Worlds (2001, anthology)
Crown of Slaves (2003)

The Course of Empire (2003 with K.D. Wentworth)
Pyramid Scheme (2001 with Dave Freer)
The Wizard of Karres (2004 with Freer and Lackey; a sequel to James H. Schmitz's Witches)
Boundary (2006 with Ryk E. Spoor)
Solo novels
Trail of Glory series
1812: The Rivers of War (2005)
1824: The Arkansas War (2006)
Short fiction
In the Honor Harrington Universe

"From the Highlands" (2001) with David Weber
"Fanatic" (2003) in The Service of the Sword

Other stories
"The Islands" (2002) in Warmasters

"Entropy and the Strangler" (short story, 1993), in Writers of the Future Volume IX
"The Thief and the Roller Derby Queen" (short story, 2000), in The Chick is in the Mail
"The Truth about the Gotterdammerung" (short story, 2004), in Turn the Other Chick
"Carthago Delenda Est" (2001) in Foreign Legions
External links
Community content is available under
CC-BY-SA
unless otherwise noted.