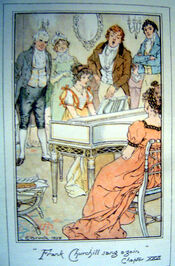 Emma is a novel written by Jane Austen and first published in 1816. The story centers around Miss Emma Woodhouse, who is the lady of highest status in the local community of a small British village in the late 1700s. When the novel begins, she is younger than 21. Her mother died years ago, her older sister married and moved to London, and her governess has just left the household to marry a local gentleman. This leaves Miss Woodhouse in charge of the household. Prominent in the neighborhood given her family's wealth and status, she has a highly unusual degree of freedom.
Luckily for all, Emma has been well brought up, is intelligent and has a kind disposition. Unfortunately, she believes her matchmaking skills to be responsible for her governess, Miss Taylor's, marriage, and throughout the rest of the book, she attempts to arrange the love lives of the single people around her.
Like Jane Austen's other books, this one has a dry sense of humor and pokes fun at the accepted manners of the day -- especially the upper-middle class (the gentry of the local neighborhoods, but not the aristocracy or royalty).
Characters
In rough order of appearance...
Miss Emma Woodhouse
Mr. Woodhouse
Mr. John Knightly
Mrs. Weston (was Miss Taylor)
Mr. Weston
Recommendations
If you like Emma, you will probably like other Jane Austen books including Pride and Prejudice.
References
External links

This article is a stub. You can help the Literawiki by expanding it.
Community content is available under
CC-BY-SA
unless otherwise noted.