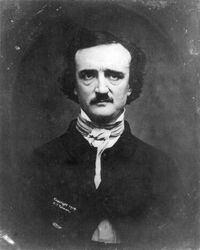 Edgar Allan Poe (January 19, 1809 - October 7, 1849) was an influential American poet, novelist, short story writer and literary critic. The majority of his writings, both poetry and prose, fall within the horror genre. He is sometimes credited with inventing modern detective fiction with his 1841 short story "The Murders in the Rue Morgue".
Biography
Edgar Allan Poe was born in Boston as Edgar Poe. He was orphaned at an early age and taken in by John and Frances Allan of Richmond, Virginia. Although he used their name, Poe was never formally adopted by the Allan family.
Poe attended the University of Virginia for one semester, leaving due to a lack of money, and was unsuccessful in officer cadet training at West Point.
Poe's first volume of poetry Tamerlane and Other Poems was published anonymously in 1827. Poe was the first American to try to live exclusively from his writings. He wrote for several magazines and literary journals, his work took him to Baltimore, Philadelphia and New York City.
On October 3, 1849, Poe was found on the streets of Baltimore, delirious and wearing clothes that were not his own. He was taken to Washington College Hospital where he died four days later at the age of forty. It was reported in some newspapers that Poe had died of "brain congestion", often used in the press at that time to indicate that someone had died as a result of alcoholism or drug abuse. The actual cause of Poe's death is a mystery because his death certificate and all documents relating to his final days in hospital have been lost.
Works
Volumes of poetry
Tamerlane and Other Poems (1827)
Al Aaraf, Tamerlane and Minor Poems (1829)
Poems by Edgar A. Poe (1831)
The Raven and Other Poems (1845)
Popular poems by Poe include:
Collected short stories
Tales of the Grotesque and Arabesque (1840)
The Prose Romances of Edgar A. Poe (1843)
Tales (1845)
Poe's well known short stories include:
Novels and longer fiction
The Unparalleled Adventure of One Hans Pfaall (1835)
The Narrative of Arthur Gordon Pym of Nantucket (1837)
External links