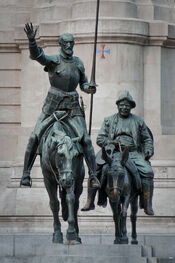 Don Quixote (Spanish:El ingenioso hidalgo don Quijote de la Mancha (The Ingenious Gentleman Don Quixote of La Mancha), often simply referred to as El Quijote) is a novel by Miguel de Cervantes. In modern Spanish, the name of the book and the title character is written with a "j", representing the sound of strong "h". When the novel was first published it was written with an "x", but Spanish-language spelling changed some centuries later.
Don Quixote is an older gentleman, who having read too many books about chivalry, decides to become a knight. Unfortunately, he is a few generations too late. His new profession and the world he lives in are, to say the least, not a good match. However, his desire for a better world shines through and his "disconnects" with the "real world" often indicate, in a comic way, things that are not good about his world. His fight against the windmills he mistakes for giants in chapter VIII of the first part, has become an icon in western culture.
The book starts when the title character decides to become a knight errant (caballero andante). He names his horse, Rocinante, (from the Spanish word "rocin", meaning "nag") and himself Don Quijote (his real name is Alonso Quijano). At the end of a day of walking he finds an inn. He treats two prostitutes as if they are princesses. The inn-keeper, understanding that Quixote is insane, tells him that he can help him to become a knight. According to the inn-keeper's instructions Don Quixote must stay awake all night watching his weapons. After that, the owner declares that Don Quixote is a knight. Don Quixote thanks him and his ladies. He then goes out to search a squire, choosing Sancho Panza.
The first part was published in Spanish in 1605 and the second in 1615, both parts have usually been printed together since then.
Influence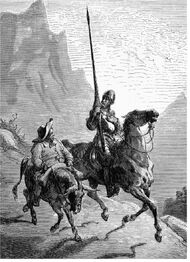 The book is considered as the first modern novel. It had a profound influence on later novelists including Henry Fielding, Fyodor Dostoevsky and William Faulkner, among many others.
Quote


"There is nothing in the world more profound or powerful than this work. This is the ultimate and greatest word that human thought has yet produced, it is the bitter irony expressible by man, and if the world were to end and someone were to ask there, somewhere, 'Well, did you understand your life on earth? What conclusions did you reach about it?' one could silently point to Don Quixote: 'Here is my conclusion about life; can you judge me for it?'"
-- Fyodor Dostoevsky
Don Quixote has been used as the basis of many other works of art including paintings, sculptures, a ballet, and a movie (Man of La Mancha).
Recommendations
This book is excellent for anyone who still has a spark of idealism and the ability to see humor in extremes. An obligatory book for anyone interested in metafiction, or the relations between society, madness, literature and technology.
Someone who likes this book might also enjoy Cervantes' Exemplary Novels or Joseph Andrews by Henry Fielding.
External links