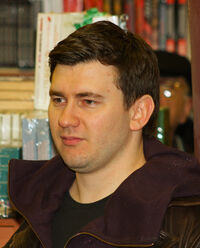 Dmitry Glukhovsky (born June 12, 1979) is a Russian author, journalist, war correspondent, radio and TV presenter.
He is best known for his debut novel Metro 2033. It is a postapocalyptic science fiction novel, the action of which takes place in the Moscow Metro, where the last survivors hide after a nuclear war. before its publication, chapters of the novel were released online for free and drew thousands of readers from Russia. In 2005 it was released by the Eksmo publisher and very quickly became a national bestseller. In 2009 Glukhovsky's second novel Metro 2034, an indirect sequel to the first book, was published.
Two video games based on Glukovsky's works have been created - Metro 2033 and its sequel Metro: Last Light.
Works
Novels
External links
Community content is available under
CC-BY-SA
unless otherwise noted.