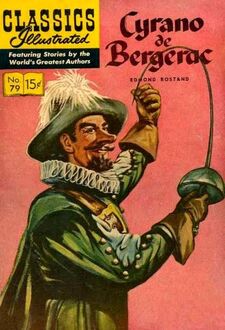 Cyrano de Bergerac is a historical drama by the French writer Edmond Rostand. The play, written entirely in verse, contains elements of adventure, comedy and romance.
The action takes place in France in the mid 17th century. The play's title character and protagonist, although he is only a low-ranking soldier and is almost always short of cash, is an extremely talented individual. Among Cyrano's many other talents, he is a poet, an excellent swordsman and a very witty and eloquent speaker. Unfortunately, Cyrano believes himself to be ugly because of his very long nose. Cyrano falls in love with his beautiful cousin Roxane but lacks the confidence to speak to her about his love. Roxane falls in love with Baron Christian de Neuvillette, a very handsome man who is also a soldier in the same regiment as Cyrano. Christian loves Roxane in return but finds that he is unable to express his love for her in words. Believing that he has found a way to safely express his love for Roxane, Cyrano agrees to write love letters to her on Christian's behalf. When Christian comes to speak to Roxane one evening, she is disappointed by his lack of eloquence and sends him away. Cyrano agrees to come to Christian's assistance again. Under cover of darkness, Cyrano pretends to be Christian and gives voice to his love for Roxane.
The play's central character is based on a genuine historical figure. Savinien de Cyrano de Bergerac (March 6, 1619 - July 28, 1655) was a French novelist, playwright and duelist. Other historical figures and events are also referenced in the play. Its plot, however, is entirely a product of Rostand's imagination.
Cyrano de Bergerac was first performed at the Théâtre de la Porte Saint-Martin in Paris on December 28, 1897. The role of Cyrano was first performed by Benoît-Constant Coquelin. Coquelin went on to play the part of Cyrano at the Théâtre de la Porte Saint-Martin four hundred and ten times and also toured North America in the role. The play was first performed in English in the United States in 1898. The title role was played by Richard Mansfield.[1] The 1898 translation of Cyrano de Bergerac introduced the word "panache" into the English language. The best-known English translations of the play today are those of Brian Hooker[2] and Anthony Burgess.[3]
There have been numerous adaptations of Cyrano de Bergerac to other media, among the best-known of which are the 1950 American film starring José Ferrer and the 1990 French-Hungarian film starring Gérard Depardieu.
Plot
Act I
It is the year 1640. A theatrical presentation is to take place at the Hôtel de Bourgogne in Paris. The audience is made up of people from all levels of society, from aristocrats who are allowed to sit on the stage itself to the very poor who would have to stand throughout the entire performance. An orange seller, a young woman, offers refreshment to the audience.
One of the audience members is Baron Christian de Neuvillette, who arrived in Paris from Touraine less than a month earlier and who is due to join the guards as a cadet the following day. Christian is accompanied by a drunken poet named Lignière. Although he is keen to leave the theater and go to some taverns, Lignière points out some of the notable people in the audience and presents Christian to some of his friends. One of his friends is Raguneau, a pastry cook and poet. Raguneau asks Lignière if Cyrano de Bergerac is in the audience. Lignière has not seen him. This surprises Raguneau because Montfleury[4] is due to appear on stage that night. Cyrano has forbidden Montfleury from appearing on stage for a month. It is explained that Cyrano de Bergerac is a member of the minor nobility, is a cadet in the guards and is a very talented man. He is a swordsman, poet, musician and scientist. Unfortunately, he looks very strange because of his very long nose.
Christian sees a young woman arrive. He has obviously seen the young woman before and is keen to find out her identity. Lignière tells him that her name is Magdeleine Robin and that she is known by the nickname Roxane. She is an orphan, is not married or engaged to anyone and is the cousin of Cyrano de Bergerac. A man sits next to Roxane. Lignière explains that he is the Comte de Guiche.[5] The Comte de Guiche is in love with Roxane but he is already married to a niece of Cardinal Richelieu.[6] He plans to marry Roxane off to the Vicomte de Valvert, who is also attending the play that evening. The Vicomte de Valvert would allow the Comte de Guiche and Roxane to be lovers. Lignière despises the Comte de Guiche and has written an insulting song about him.
Lignière leaves. Christian stops a pickpocket. Begging Christian to let him go, the pickpocket says that he has some information to pass on to him. The pickpocket tells him that, because of the insulting song that Lignière wrote about the Comte de Guiche, a hundred hired ruffians are going to attack the poet that night. Christian leaves to find Lignière and warn him.
Montfleury appears on stage. After he has begun his speech, the voice of Cyrano de Bergerac is heard. Cyrano reminds Montfleury that he had forbidden him to act for a month and tells him to leave. Montfleury tries to continue with his speech. Most of the audience members encourage him to do so. Cyrano, however, keeps interrupting the speech and telling Montfleury to leave. Montfleury becomes more and more nervous. Cyrano gets on stage and threatens Montfleury with his sword. Most of the audience members still want Montfleury to continue. Cyrano says that he is prepared to fight everyone in the audience as well and will not hesitate to kill. Most of the audience members stop trying to oppose Cyrano. Cyrano says that he will clap three times and expects Montfleury to be gone on the third clap. On the third clap, Montfleury disappears through a trap door.
An audience member asks Cyrano why he hates Montfleury. Cyrano says that he has two equally good reasons for hating him. The first reason is that Montfleury is a terrible actor. The second reason is a secret. The theater manager says that the audience will need to get their money back. Cyrano throws down a purse full of coins to reimburse them. Most of the audience members then leave, although some, including Roxane, stay to see what will happen next.
An angry audience member points out to Cyrano that Montfleury is protected by the Duc de Candale. He asks Cyrano if he has a wealthy patron to protect him. Cyrano replies that the only protector he has is his sword, He then gets the impression that the man is looking at his nose. When the man denies this, Cyrano asks him why he is not looking at his nose and asks if it disgusts him. The nervous man says that Cyrano's nose is tiny. Cyrano replies that the man is speaking nonsense. Cyrano says that his nose is very big and that a big nose is the sign of a man who possesses all of the best possible qualities. He then threatens to kick the man in the back. The man runs off.
The Vicomte de Valvert decides that he wants to stand up to the blustering Cyrano. He walks towards Cyrano and tells him that he has a very big nose. Cyrano asks him if that is all and says that it was rather short. Cyrano then goes on to list twenty ways that an educated and witty person could have phrased the insult "You have a very big nose" differently, including ways that sound friendly, naive and respectful as well as insults in the style of a teacher, a soldier and a country bumpkin. He adds that the Vicomte de Valvert could not have come up with any of those insults because he is a fool.
The Vicomte insults Cyrano again. Cyrano is eager to fight him. The Vicomte mocks him for being a poet. Cyrano replies that he is a poet and that he will make up a poem while he is fighting the Vicomte. He adds that he will touch the Vicomte with his sword at the end of each verse. Cyrano does as he said. At the end of his poem, Cyrano kills the Vicomte to much applause. A musketeer who comes up to Cyrano to congratulate him is identified as D'Artagnan.
Cyrano's friend Le Bret asks him if he is going to have dinner. Cyrano replies that he cannot because he does not have any money. Le Bret asks Cyrano about the purse full of coins that he threw down. Cyrano says that was all he had to live on for a month. The orange seller overhears this. She tells Cyrano that he can have whatever he wants from the buffet for free. Although Cyrano is too proud to take full advantage of the orange seller's charity, he does not want to upset her by turning down her offer completely. He therefore takes a glass of water, half a macaron and a single grape. He kisses the orange seller's hand.
Le Bret asks Cyrano for the real reason why he hates Montfleury. Cyrano tells him that he did not like the way Montfleury was looking at a certain woman. Le Bret asks if it is possible that Cyrano is in love. Cyrano replies that he is in love with the most beautiful woman in the world. Le Bret realizes that means Cyrano's cousin Roxane. He asks Cyrano why he does not tell Roxane of his love. Cyrano says that it is because his long nose makes him ugly and destined to remain alone forever. Le Bret points out how admiringly the orange seller looked at Cyrano. He adds that Roxan herself watched Cyrano's duel with the Vicomte de Valvert with a great deal of admiration.
An older female servant of Roxane who acts as her chaperone approaches Cyrano. She tells him that Roxane has something to say to him and wants to meet him at seven o'clock the following morning. It is agreed that they will meet at Raguneau's bakery. Cyrano believes that Roxane will tell him that she loves him. He is in an extremely good mood.
Lignière returns. He has received a note which says that a hundred hired ruffians are waiting to attack him at the Porte de Nesle. He shows the note to Cyrano. Gaining great strength from the idea that Roxane loves him, Cyrano relishes the idea of fighting a hundred men on his own. He goes off towards the Porte de Nesle, followed by a crowd of spectators. A woman asks why a hundred men would want to attack a poet like Lignière. Cyrano boastfully replies that it is because somebody knows that Lignière is his friend.
Act II
Early the following morning, the poet and pastry cook Raguneau is horrified to find that his wife Lise has turned all of his poetry books into paper bags. When some children come into Raguneau's bakery shop to buy some cakes, he has difficulty finding a bag he can give them which has a poem suitable for children on it.
Cyrano arrives at Raguneau's bakery shop at six o'clock in the morning, an hour before his scheduled meeting with Roxane. Other customers arrive, including a musketeer who is obviously Lise's lover and several impoverished poets who are fed for free by Raguneau. Cyrano asks Raguneau to get the other customers to leave when Roxane arrives so that he can speak to her alone. Cyrano sits on his own and writes a love letter to Roxane. He decides that he does not need to sign it because he will give it to her in person. Some of the poets congratulate Cyrano on fighting off a hundred men and killing eight of them the night before.
Raguneau gets the other customers to leave when Roxane and her chaperone arrive. So that he can be alone with Roxane, Cyrano gives her chaperone a paper bag full of cakes. He tells her to go outside to eat them and not to come back inside the shop until she has eaten all of them. When she does come back, Cyrano tells her to read the poems that are written on the bag.
Roxane thanks Cyrano for getting rid of the Vicomte de Valvert, whom the Comte de Guiche wanted her to marry against her wishes. They talk about their childhoods, when Roxane used to visit Cyrano at his home in Bergerac and used to motherly treat his scratched hands. Roxane looks at Cyrano's hand and sees that he has scratches on it like he used to when he was a boy. Cyrano explains that he got the scratches from fighting a hundred men the night before. Roxane bandages Cyrano's hand.
Roxane explains the reason for her visit. She says that she loves a timid boy who loves her from afar. He is a cadet in the same regiment as Cyrano. He is intelligent, proud, young, noble, brave and handsome. Cyrano thinks that Roxane is talking about him until he hears the word "handsome". Roxane says that she has not spoken to the man yet, she has only seen him at the theater, and that his name is Baron Christian de Neuvillette. When Cyrano says that nobody of that name is in the cadets, Roxane explains that he has only joined that morning. Cyrano asks Roxane why she is telling him this. She says that it is well known that most of the cadets, like Cyrano himself, are from Gascony and that they give anyone from elsewhere who joins their ranks a hard time. Cyrano says that he will protect Christian and be his friend. Roxane tells Cyrano to get Christian to write her a love letter. Before she leaves, Roxane congratulates Cyrano on his bravery in fighting a hundred men. Cyrano says to himself that he has been braver since then.
The other customers come back inside Raguneau's bakery. They are joined by Cyrano's friend Le Bret, his fellow cadets and their commander Carbon de Castel-Jaloux. Le Bret asks Cyrano what happened at his meeting with Roxane. Cyrano tells him to be quiet. Many people want to hear the story of Cyrano's fight against a hundred men, including Théophraste Renaudot, "the inventor of the gazette",[7] who wants to write a story about it. Cyrano, however, is reluctant to speak about the fight.
The Comte de Guiche arrives. He tells Cyrano that he admires him and that, instead of being in the cadets, Cyrano could earn a living as a poet under his patronage. Cyrano refuses the offer. De Guiche asks Cyrano if he has written a play. Cyrano replies that he has. De Guiche says that he could show the play to his uncle, Cardinal Richelieu, who could make a few improvements to it. Cyrano gets angry at that suggestion. He says that he does not want even a comma of his writing to be changed. De Guiche adds that the Cardinal pays well when he likes a poem. Cyrano says that he pays himself better when he reads his poems aloud.
One of the cadets comes in with the hats of the eight men that Cyrano killed the night before. The cadet says that whoever hired those men must be feeling angry that day. De Guiche says that he hired them. He feels no shame in saying that he got other people to attack Ligniere on his behalf because he believed such a task to be beneath his dignity.
Before leaving, De Guiche asks Cyrano if he has read Don Quixote. Cyrano replies that he has and that he identifies strongly with its central character. De Guiche says that, like Don Quixote, Cyrano is fighting against windmills. He adds that a windmill sail might throw Cyrano down into the mud. Cyrano replies that a windmill sail might cast him up into the stars.
Le Bret asks Cyrano why he turned down De Guiche's offer. Cyrano replies that he prefers to be free than to have to write about what a patron wants him to. Le Bret asks him why he always tries to make enemies. Cyrano replies that it disgusts him to see the way other people try to make friends with everyone. Le Bret realizes that the real reason for Cyrano's bad mood is because he has found out that Roxane does not love him.
Christian comes in. The other cadets ignore him, until one of them gets the idea that the story of Cyrano's fight against the hundred men might frighten the new recruit. A few cadets point out Cyrano to Christian. They tell him that, because of Cyrano, they never talk about noses or refer to them in any way. They say that Cyrano has killed men just for taking out handkerchiefs in front of him. Christian asks Carbon de Castel-Jaloux what he should do when men from the south of France become too boastful. Carbon de Castel-Jaloux replies that Christian should show them that men from the north can be brave too.
Cyrano begins telling the story of his fight against the hundred men. To show his bravery, Christian keeps interrupting Cyrano. Christian finishes Cyrano's sentences and makes allusions to noses each time. Cyrano, having found out that the person who is interrupting him is Baron Christian de Neuvillette, does not stop him. He does, however, get visibly angrier. Eventually, Cyrano tells everyone else to leave.
As soon as they are left alone, Cyrano tells Christian to come to his arms and says that he admires his bravery. He says that his cousin Roxane's is in love with Christian and wants a love letter from him. Christian sadly says that he cannot write her a letter because he has no gift for words. Cyrano points out that Christian showed a great deal of wit in insulting him. Christian explains that he finds words easily enough when it comes to fighting but that he always falls silent when he is in front of a beautiful woman.
Cyrano, who has to admit that Christian is handsome, says that he is certain that he would have been able to use his gift for words to woo women if his ugliness had not prevented him. It occurs to Cyrano that somebody with a combination of his eloquence and Christian's good looks could be the hero of a romantic novel. Cyrano says that he will teach Christian what to say. Christian agrees to this. He asks Cyrano what can be done about the love letter that Roxane wants. Cyrano gives him the unsigned love letter which he wrote to Roxane earlier. He explains that poets always write love letters to imaginary mistresses.
The other customers come back inside Raguneau's shop. The musketeer, Lise's lover, asks if it is now permitted to talk about Cyrano's nose. Cyrano hits him in the face.
Act III
Some time has passed. Raguneau's wife has left him for the musketeer. He has given up his bakery shop and become one of Roxane's servants.
As he often does, Cyrano comes over in the evening to visit Roxane. He arrives in the company of two musicians. He explains that he won a bet and that his prize was to be accompanied by the musicians for a day, although he has long since grown tired of them. Hoping to irritate the actor, Cyrano tells the musicians to go to Montfleury's house and play badly for him. Cyrano sits next to Roxane in her garden and asks her how her relationship with Christian is going. She tells him that Christian is even more intelligent and wittier than Cyrano himself. She reads from some of Christian's letters, which were, of course, all really written by Cyrano.
Roxane's chaperone announces that the Comte de Guiche has arrived. Cyrano goes inside Roxane's house and leaves her to speak to De Guiche in her garden. De Guiche has been made an officer in the army. He is going to take part in the on-going war with Spain. He is being sent to besiege the Spanish-occupied French town of Arras and he can decide which regiments of the army will accompany him. He plans to take revenge on Cyrano by sending the cadets there. Really wanting to protect Christian, Roxane tells De Guiche that, because Cyrano loves danger, he would be punished more if the cadets were not sent to the fight. De Guiche says that he might not fight himself. His uncle Cardinal Richelieu could arrange for him to secretly hide in a monastery near Roxane's house. He could then continue to see Roxane, putting on a mask whenever he went out. Roxane says that she would prefer De Guiche to prove his bravery by going off to war.
The Comte de Guiche leaves. Cyrano comes out of Roxane's house. Roxane tells him that Christian is coming over that evening and that she will make him speak of her love to her. Cyrano calls over the approaching Christian. He says that he will tell Christian what to say to Roxane and that Christian will just have to memorize it. Christian refuses Cyrano's offer of help. He says that his love for Roxane is no longer a game and that he wants to speak to her in his own words. Christian and Roxane sit down together in the garden. Roxane asks Christian to speak and says that she will listen. Roxane is upset when Christian is unable to say anything more than, "I love you very much." Christian apologizes for having become stupid. Roxane says that displeases her as much as if he had become ugly. Roxane tells Christian to leave. She goes inside her house.
Cyrano comes out of hiding. Christian asks him for help. Cyrano says that, because the night is dark and Roxane will not see him, he will be able to help. He tells Christian to stand in front of Roxane's balcony. Cyrano says that he will stand underneath the balcony and whisper what Christian should say to him.
The two musicians return. Cyrano tells them to stand at opposite corners of the street and to play if they see anyone coming. They are to play a sad tune if they see a man approaching and a happy tune if they see a woman.
Christian throws pebbles at Roxane's window to get her attention. Roxane does not want to listen to him at first. Cyrano's beautiful words, however, soon win her over. She asks Christian why he is speaking slowly. Cyrano then begins speaking himself. He first offers a poetic explanation as to why his words seemed to take a long time to reach Roxane's ears. Roxane offers to come down. Cyrano tells her not to. She asks the man to whom she is talking to climb up to her window. Cyrano refuses. He says that he wants to enjoy speaking unseen as if he were simply a shadow and Roxane were the light. He says that he feels like he is speaking to her for the first time. Roxane says that the voice she can hear does not sound like Christian's normal voice. Cyrano says that he is speaking with his real voice for the first time. Roxane is overcome with love for the voice she can hear. Cyrano says that he asks for only one thing. Christian says, "A kiss." Cyrano tells him to shut up. He explains to Roxane that he told himself to shut up for asking too much.
Cyrano hears the musicians play a sad tune and a happy tune at the same time. He realizes that it means that a monk is coming. The monk asks for directions to Roxane's house. Cyrano deliberately sends him in the wrong direction.
Christian asks Cyrano to get him his kiss. Cyrano agrees. He talks on the subject of kisses until Roxane asks him to climb up to her balcony again. Christian climbs up, kisses Roxane and goes inside her house.
Cyrano hears the sad and happy tunes being played again. The monk comes back. He insists that he is at Roxane's house. Cyrano claims to have misheard the name before. Roxane and Christian come out of the house. The monk gives Roxane a letter. It is from De Guiche. De Guiche writes that he has disobeyed Roxane. He will not be going to war. He is staying at the monastery and will come over to see Roxane soon. Roxane tells the monk that the letter asks him to marry Christian to her and says that he will receive twenty gold coins for the monastery if he does so. Cyrano is told to keep De Guiche busy for the fifteen minutes that it will take for the monk to perform the wedding ceremony.
The musicians play a sad tune. Cyrano realizes that De Guiche is coming. He jumps from a tree in Roxane's garden and lands in the street in front of De Guiche. Having disguised his voice and with his face covered by his hat, Cyrano claims to have fallen from the moon.[8] De Guiche thinks that he is mad and does not want to talk to him. Cyrano claims that he does not know where in the world he has landed. Seeing De Guiche's black mask, Cyrano asks if he is in Africa. When De Guiche says that it is a mask, Cyrano asks if he is in Venice or Genoa during Carnival. De Guiches tries to push past Cyrano, saying that a woman is waiting for him. On hearing that, Cyrano says that he must be in Paris. De Guiche likes that witty response and decides to listen to the man after all. Cyrano tells him about the constellations that he passed through on his return to Earth and about the seven different possible methods of traveling to the moon that he discovered. When the fifteen minutes are up and the wedding ceremony has been completed, Cyrano reveals who he really is.
Christian and Roxane come out of the house as husband and wife. De Guiche tells Roxane to say goodbye to her husband. De Guiche explains that he has disobeyed Roxane again. The cadets will be sent to the Siege of Arras and have to leave immediately. After Christian has gone, Roxane tells Cyrano to promise not to let Christian put his life in danger, to promise that Christian will be careful, will not get cold and will stay faithful to her. Cyrano says that he will see what he can do but cannot promise anything. Roxane asks Cyrano to promise to make sure that Christian writes to her every day. Cyrano says that he can promise that.
Act IV
The troops sent to besiege Arras have themselves become besieged. The Gascon cadets are completely surrounded by Spanish soldiers and are slowly dying of hunger.
Early in the morning, before most of the cadets are awake, Cyrano returns from having crossed enemy lines to send a love letter that he has written to Roxane in Christian's name. The cadets begin to wake up. Christian, who is weaker than the others, stays under his blanket. Cyrano distracts the cadets by getting one of them to play an old Gascon folk tune on a flute. They all think about their home and forget about their hunger.
De Guiche approaches. Although he is also from Gascony, all the cadets hate him. He knows that and does not appear to care. Cyrano tells the other cadets to play cards and dice and to ignore De Guiche. De Guiche begins describing how he attacked the Spanish the day before. Cyrano points out that De Guiche made himself a less appealing target for the enemy by taking off the white scarf that identified him as an officer. De Guiche is surprised that Cyrano knows this but admits that it is true. Cyrano says that he would gladly put himself in danger by putting on De Guiche's white scarf. De Guiche says that is impossible because the scarf is now behind enemy lines. Cyrano takes De Guiche's white scarf out off his pocket.
De Guiche explains that the Gascon cadets are going to be attacked that day. He has arranged this through a Spanish double-agent in order to buy time for other French troops to arrive. He does not hide the fact that he has made this arrangement to get revenge on Cyrano, although he also admits that he admires the bravery of Cyrano and the other cadets. De Guiche, of course, plans to leave before the attack begins.
Christian wakes up. Cyrano says that he has written a letter that could be sent to Roxane in the event of Christian's death. Christian takes the letter. He sees that there is a small round stain on it. Christian realizes that the stain was made when one of Cyrano's tears fell onto the letter. Cyrano has to admit that is true. He says that dying would not be as bad as never seeing Roxane again.
A coach arrives. To everyone's surprise, a woman's voice is heard from inside it. Roxane emerges. She explains that her love has brought her to the cadets' camp. She had to cross Spanish lines to get there. The Spanish, being the second most gallant men in the world after the French, usually let the coach pass when they found out there was a woman inside it. If any Spanish soldiers asked her where she was going, she always answered that she was going to see her lover and was allowed to pass. She realizes that it would not have had the same effect if she had said that she was going to see her husband.
De Guiche tries to persuade Roxane to leave with him. She refuses. He says that he is going to inspect his cannons and give her to time to think about it.
Roxane is presented to the rest of the cadets. One of them says that meeting such a beautiful woman has almost made him forget his hunger. Roxane says that she is hungry too. She asks where food can be found. She answers her own question by saying that it is inside her coach. Raguneau comes out of the coach and provides the cadets with lots of food and wine. Roxane says that De Guiche is not going to have any of the food. When De Guiche comes back, all the food is quickly hidden. De Guiche asks Roxan again if she is going to leave. Again, she refuses. De Guiche says that he will stay too because he cannot leave a woman in danger. The cadets then say that De Guiche can have some of their food and bring it out of hiding. At first, De Guiche is reluctant to take the cadets' leftovers, although he eventually accepts.
Cyrano tells Christian that he wrote to Roxane many times in his name without telling him. When Christian asks him how often he wrote, Cyrano replies that he wrote to Roxane twice a day and that he crossed enemy lines to make sure the letters were delivered.
Roxane tells Christian that she came to see him because of his love letters. She says that, when she reads them, she hears the different voice that she believes Christian spoke with on that special night in her garden. Roxane says that, at first, she loved Christian for his good looks. Later, she loved him for his good looks and his mind. Now, she loves him for his mind alone and would love him even if he were ugly.
Christian goes to see Cyrano. He says that, because Roxane loves what she believes is Christian's mind, Cyrano is the person with whom she is really in love. Christian adds that he knows Cyrano is in love with Roxane too. Cyrano admits this is true. Christian says that Cyrano should tell Roxane the truth. Cyrano asks Roxane if it is true that she loves Christian for his mind and would love him even if he were ugly. She says that is true.
At that moment, the camp comes under attack. Christian is fatally wounded. Cyrano tells the dying Christian that he told Roxane everything and that Roxane decided that Christian was the one that she really loved. Roxane finds the letter which Cyrano gave him on Christian's body. She sees that it is stained with Christian's blood and what she believes to be one of Christian's tears.
Cyrano tells De Guiche that he has proven his bravery and he can now leave with Roxane. De Guiche, Roxane and Raguneau leave together.
After she has gone, Cyrano comments that Roxane was really crying for him without knowing it. Now that he no longer has any reason to write love letters to Roxane, Cyrano feels that he no longer has a reason to live. As the Spanish approach, Cyrano says that he has two deaths to avenge, Christian's and that of his own happiness. Cyrano and the other cadets fight bravely against the Spanish troops.
Act V
Although she never becomes a nun, Roxane goes to live in a convent after Christian's death. She spends the next fifteen years of her life there. Cyrano comes to visit her every Saturday. He acts as her "gazette" by bringing her news of the outside world. Cyrano always teases the nuns by telling them that on the previous day, a Friday, he ate meat, an action prohibited by the Roman Catholic Church. Mother Marguerite, the most senior nun at the convent, knows that this is not true because Cyrano is too poor to afford meat. All of the nuns like Cyrano, even though they know that he is not a good Catholic. Mother Marguerite tells the other nuns not to try to convert Cyrano, out of fear that he might stop coming to the convent so often.
On Saturday September 26, 1655, Roxane is visited by the Comte de Guiche, whom she has long since forgiven for the part that he played in Christian's death and the other problems that he caused her, and Le Bret. Le Bret says that Cyrano has made many new enemies through his writings. In those writings, Cyrano has attacked those who plagiarize other people's works, accused people of pretending to be religious and brave and accused the nobles of acting without nobility. Roxane says that Cyrano has nothing to fear because he is still very handy with his sword. Le Bret agrees. He thinks that it is more likely that Cyrano will die of poverty and starvation than meet a violent end. De Guiche says privately to Le Bret that, although nobody would dare fight Cyrano, he may be killed in a manner that makes his death look accidental.
As Roxane is escorting De Guiche away from the convent, Raguneau arrives. Raguneau tells Le Bret that Cyrano has been injured. Raguneau saw a log fall from a window, hit Cyrano on the head and knock him unconscious. Raguneau took Cyrano home and put him in bed. A doctor said that it would kill Cyrano if he got up. Le Bret and Raguneau go off to see their injured friend. Roxane returns as Le Bret and Raguneau are leaving.
For the first time in fourteen years, Cyrano arrives late for his meeting with Roxane. He arrives just before night falls. He apologizes for being late and says that he may have to leave early too. He sits next to Roxane on a bench in the convent's gardens and begins to tell her news of the outside world. He stops, clearly in pain. Roxane asks Cyrano what is wrong. He answers that he is being troubled by an old wound from the Siege of Arras. Roxane says that she also has an old wound. She touches what she believes to be Christian's last letter to her, which she always keeps close to her heart.
Cyrano asks to see the letter. He begins to read it aloud. Roxane enjoys listening to him reading it. She notices that Cyrano is not speaking in his normal voice. She realizes that it is a voice that she has heard once before. Cyrano continues to recite the letter. Roxane points out that night has fallen and it is now too dark to read. Roxane realizes that Cyrano wrote all of Christian's letters, that Cyrano's voice was the one that she heard on the special night in her garden some fifteen years earlier and that Cyrano loves her. Cyrano denies all of this. Roxane says that the tear on what she believed to be Christian's last letter was Cyrano's. Cyrano replies that the blood was Christian's.
Le Bret and Raguneau come running back towards the convent, expecting to find Cyrano there. Le Bret says that Cyrano has killed himself by getting out of bed. Cyrano says that he has not finished giving Roxane his news of the outside world. He says that an hour before dinner on Saturday September 26, Cyrano de Bergerac was murdered when somebody dropped a log on him. He adds that he is now late for his own death.
Cyrano asks Raguneau, who has had many jobs since leaving Roxane's service, what he is doing now. Raguneau replies that he works snuffing out candles at the theater of the playwright Molière. He adds that he is going to leave because a scene from Molière's latest comedy was copied from a play by Cyrano de Bergerac.[9] Cyrano asks if the audience enjoyed the scene. Raguneau replies that they laughed and laughed. Cyrano says that is the story of his life. The talented Molière took the glory that should have been Cyrano's just as the handsome Christian did many years earlier.
Nuns come out of the chapel. Roxane wants to go to them to get help. Cyrano tells her not to. He says that he will not be there when she comes back. Realizing that it was Cyrano that she really loved all along, Roxane says that she wants him to live. Cyrano replies that he cannot. He decides, however, that he does not want to die sitting down. He stands up and draws his word. He claims that he can see Death standing in front of him and staring at his nose. Cyrano claims to be fighting against Death, although he knows that it will be ultimately useless, He says that Death has been joined by two thousand more of his old enemies, including Falsehood, Compromise, Prejudice, Cowardice and Stupidity. Cyrano continues to fight against his invisible enemies until his sword falls from his hand and he collapses. Before he dies, Cyrano says that Death and his two thousand other enemies have taken everything from him, except for his panache.
Adaptations
Film and television adaptations of Cyrano de Bergerac have been produced in France (1900, 1909, 1912, 1923,[10] 1946, 1960, 1990[11] and 2007), Austria and Germany (2000), Canada (1980), Czechoslovakia (1971), the Netherlands (1975), Spain (1963, 1969 and 1986), the United Kingdom (1938, 1968 and 1985) and the United States (1949, 1950, 1955, 1962, 1974 and 2009). Several films have also been made which are loose adaptations of Cyrano de Bergerac. In those films, the story is updated or otherwise adapted to appeal to the domestic audience of the country where the movie was made.
The 1900 film Cyrano de Bergerac, directed by Clément Maurice, was the first film to be presented both in color and with sound. Synchronized sound for the hand-tinted film was originally recorded onto a wax cylinder which was played while the film was being projected. The short film, which runs for less than two minutes, is based on the scene from Act I in which Cyrano composes a poem while fighting a duel with the Vicomte de Valvert. Cyrano is played by Benoît-Constant Coquelin, who originated the role on stage in 1897.
The 1950 American film Cyrano de Bergerac was directed by Michael Gordon. It stars José Ferrer as Cyrano, Mala Powers as Roxane and William Prince as Christian. The screenplay is based on Brian Hooker's 1923 verse translation. It was adapted by Carl Foreman and an uncredited Orson Welles. Several additional scenes, intended to improve continuity, were added to the film. The dialogue in those scenes is not in verse. Those additional scenes include one in which Cardinal Richelieu (played sympathetically by Edgar Barrier) and the Comte de Guiche talk about Cyrano and one in which Cyrano's powerful enemies talk about killing him and making his death look like an accident. Cyrano's fight against the hundred men and the attack that leads to his death appear onscreen. Cyrano does not die after having a log dropped on his head, as he does in the play. Instead, he is ambushed and then run over by a carriage. The characters of Le Bret and Carbon de Castel-Jaloux are combined, meaning that Le Bret has a larger role in the film than he does in the play. The characters of Lignière and Raguneau are also combined. As a result, Raguneau appears to be more significant in the film than he is in the play because the hundred ruffians are hired to attack him. José Ferrer won the Academy Award for Best Actor and the Golden Globe Award for Best Actor for his performance in the film. Cyrano de Bergerac also won the Golden Globe Award for Best Cinematography - Black and White. The film was made on a low budget because it was not expected to do well at the box office. Camera angles and lighting were used to try to cover up the fact that the sets were not very elaborate. The film did indeed perform badly at the box office, it made a loss of $300,000. The movie has, however, taken on something of the status of a cult classic in recent years. It lapsed into the public domain in the 1980s.
The 1990 French-Hungarian film Cyrano de Bergerac, directed by Jean-Paul Rappeneau and starring Gérard Depardieu, is considerably more lavish than the 1950 American version and also much more faithful to Rostand's original play. The film's English subtitles are based on the Anthony Burgess translation.[3] Cyrano de Bergerac was made on a budget of $15.3 million and went on to earn $41.3 million at the box office worldwide. It won the Academy Award for Best Costume Designer and was nominated for a further four Academy Awards, including Best Actor and Best Foreign Language Film. Cyrano de Bergerac won ten César Awards (including Best Film, Best Actor - Leading Role and Best Actor - Supporting Role), four BAFTA Awards, two awards at the 1990 Cannes Film Festival, a European Film Award and the Golden Globe Award for Best Foreign Language Film. In 2010, the British movie magazine Empire ranked Cyrano de Bergerac as forty-third in its list of "The 100 Best Films of World Cinema".
Hiroshi Inagaki's 1959 Japanese film Life of an Expert Swordsman (Japanese: 或る剣豪の生涯, Aru Kengo no Shōgai; originally released in the English-speaking world as Samurai Saga) moves the story of Cyrano de Bergerac to feudal Japan. It stars Toshiro Mifune as Heihachiro Komaki (analogous to the character of Cyrano in Rostand's play) and Yoko Tsukasa as Princess Chiyo (analogous to Roxane). Instead of a long nose, Heihachiro Komaki has a large flat nose.
The 1987 American romantic comedy film Roxanne is a loose adaptation of Cyrano de Bergerac. It stars Steve Martin (who also wrote the screenplay) as C.D. Bales, Darryl Hannah as Roxanne Kowalski and Rick Rossovich as Chris McConnell. C.D. Bales, the long-nosed, intelligent, charismatic and athletic fire chief of the small town of Nelson, Washington, falls in love with astronomy student Roxanne Kowalski. Roxanne likes him but only as a friend. Roxanne is in love with the dim-witted firefighter Chris, whom she mistakenly believes to be highly intelligent. Roxanne goes to C.D. Bales for advice on advancing her relationship with Chris beyond curious glances at each other. C.D. Bales helps Chris to appear intelligent in front of Roxanne.
The 1996 American film The Truth About Cats & Dogs is a modernized adaptation of Cyrano de Bergerac in which the gender roles are reversed. It stars Janeanne Garafab as Abby Barnes, a veterinarian and host of a radio talk show. When Brian (played by Brian Chaplin), a caller to the radio talk show, asks Abby on a date, she gets her more conventionally good-looking friend Noelle (played by Uma Thurman) to stand in for her.
The TV movie Let It Shine, which first aired on the Disney Channel in the United States and Canada on June 15, 2012, is a loose adaptation of Cyrano de Bergerac. It stars Taylor James Williams as Cyrus DeBarge, Coco Jones as Roxanne Andrews and Trevor Jackson as Kris McDuffy. The shy Cyrus writes rap lyrics under the pseudonym Truth. He allows his more outgoing friend Kris to take the credit for being Truth but comes to regret doing so.
Other recent films loosely based on Cyrano de Bergerac include Megamind (USA 2010), Oohalu Gusagusalade ("Imaginations Whispered", India 2014), Sierra Burgess is a Loser (USA 2018) and Old Boys (UK/Sweden 2018).
A British radio play based on Anthony Burgess' translation of Cyrano de Bergerac,[3] starring Kenneth Branagh as Cyrano, Jodhi May as Roxane and Tom Hiddleston as Christian, first aired on BBC Radio 3 on March 23, 2008.
The British poet, playwright and librettist Glyn Maxwell adapted Rostand's Cyrano de Bergerac as a radio mini-series of five fifteen-minute episodes. The mini-series, starring Tom Burke as Cyrano, Emily Pithon as Roxane and Kieran Hodgson as Christian, was first broadcast on BBC Radio 4 in the United Kingdom between June 15 and June 19, 2013.
There are three different operas based on Cyrano de Bergerac. The English-language opera Cyrano, with music by Walter Damrosch and libretto by William James Henderson, was first performed at the Metropolitan Opera in New York City on February 27, 1913. The French-language opera Cyrano de Bergerac, with music by Franco Alfano and libretto by Henri Caïn, was first performed in an Italian translation in Rome on January 22, 1936. The English-language opera Cyrano, with music by David DiChiera and libretto by Bernard Uzan, was first performed in Detroit, Michigan on October 13, 2007.
Several musicals based on Cyrano de Bergerac have been produced. Cyrano, with book and lyrics by Anthony Burgess and music by Michael J. Lewis, opened at the Palace Theater on Broadway on May 13, 1973. Cyrano de Musical, with book and lyrics by Koen van Dijk and music by Ad van Dijk, was originally performed in Dutch in Amsterdam in 1992. It was adapted into English by Peter Reeves and Sheldon Harrick. Under the title Cyrano: The Musical, it opened at the Neil Simon Theater on Broadway on November 21, 1993. Cyrano el musical, with book and lyrics by Lorenzo Gonzalez and music by David Tort, was first performed in Mexico City in 2004. Cyrano de Bergerac - The Musical, with book and lyrics by Leslie Bricusse and music by Frank Wildhorn, was first performed in a Japanese translation at the Nissay Theater in Tokyo on May 28, 2009.
See also
Footnotes
External links
Community content is available under
CC-BY-SA
unless otherwise noted.