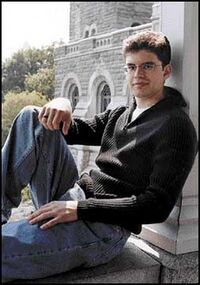 Christopher Paolini is the author of Eragon, Eldest, and Brisingr the first three books of the Inheritance Cycle, the fourth and last book to be due out sometime this year (hopefully). Christopher lives in Paradise Valley in Montana which inspired Palancar Valley in his books. He was homeschooled and wrote Eragon when he was fifteen which was then self-published by his family.
He was born on November 17, 1983, in Southern California.
Some of his favorite books are Bruce Colville's Jeremy Thatcher, Dragon Hatcher, Frank Herbert's Dune, Raymond E. Feist's Magician, and Philip Pullman's His Dark Materials, as well as books by Anne McCaffrey, Jane Yolen, Brian Jacques, E.R. Eddison, David Eddings, and Ursula Le Guin.
External links
Community content is available under
CC-BY-SA
unless otherwise noted.