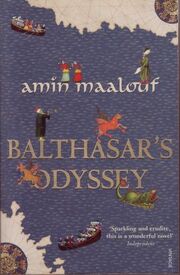 Balthasar's Odyssey (French: Le Périple de Baldassare) is a novel by Amin Maalouf which was first published in 2000. It is set in 17th century Europe and was originally written in French. It was translated by Barbara Bray.
The storyline follows the journey of a Lebanese librarian named Balthasar who seeks a sacred book which seems to provide the answer for soul salvation on Doomsday in the apocalyptic year of 1666. During his trip, Balthasar travels through the Ottoman Empire, Italy, and London, while experiencing a myriad of problems due to the cursed book. The mysterious book is called The Hundredth Name in reference to the Koran's 99 Names of God. Balthasar believes that learning the secret hundredth name will be his salvation.
Community content is available under
CC-BY-SA
unless otherwise noted.