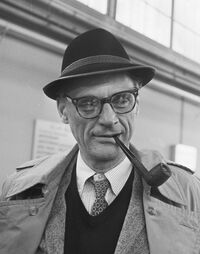 Arthur Miller (October 17, 1915 - February 10, 2005) was an author and playwright. He won the Pulitzer Prize for Drama, a Tony Award for Best Author, the New York Drama Circle Critics' Award, the National Medal of Arts (U.S.) and others.
Works
Stage plays
and many others. In addition to stage and radio plays, he also wrote some fictional stories and non-fiction. He wrote a radio play based on Jane Austen's Pride and Prejudice.
Personal life
Arthur Miller was born in 1915 in New York City where his father owned a clothing company, which he lost in the Great Depression. His parents were Polish, Jewish immigrants. He worked different jobs and began writing plays as a student at the University of Michigan. He was married three times: Mary Grace Slattery in 1940, actress Marilyn Monroe in 1956, and photographer Inge Morath in 1962. He died in 2005.
Mr. Miller was convicted of contempt of Congress for refusing to give names of others to the House Un-American Activities Committee. The Crucible with its story of witch hunts and unfair trials is often seen as an allegory of those hearings. His conviction was overturned the following year
External links

This article is a stub. You can help the Literawiki by expanding it.
Community content is available under
CC-BY-SA
unless otherwise noted.