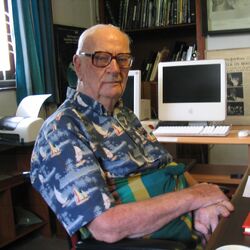 Sir Arthur Charles Clarke, CBE (December 16, 1917 – March 19, 2008) was a British science fiction author, inventor, and futurist. Clarke was knighted in 1998. He emigrated to Sri Lanka in 1956 largely to pursue his interest in scuba diving, and lived there until his death.
Clarke corresponded with C. S. Lewis in the 1940s and 1950s and they once met in an Oxford pub, The Eastgate, to discuss science fiction and space travel. Clarke, after Lewis's death, voiced great praise for him, saying the Ransom Trilogy was one of the few works of science fiction that could be considered literature.
In the early 1970s Clarke signed a three-book publishing deal, a record for a science-fiction writer at the time. The first of the three was Rendezvous with Rama in 1973, which won him all the main genre awards and has spawned sequels that, along with the Odyssey Series, formed the backbone of his later career. Clarke's work is marked by an optimistic view of science empowering mankind's exploration of the Solar System. Clarke's images of the future often feature a Utopian setting with highly developed technology, ecology, and society, based on the author's ideals.
Novels
Short stories
Clark's short stories include...
External links
Community content is available under
CC-BY-SA
unless otherwise noted.