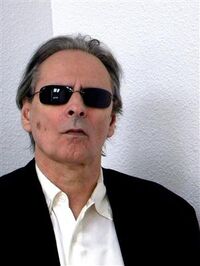 Andrew Henry Vachss (born October 19, 1942) is an American author who specializes in crime fiction. His works include novels, short stories and plays as well as works of non-fiction. He is also a child protection consultant and attorney exclusively representing children and youths
Many Vachss novels feature the shadowy, unlicensed investigator Burke, ex-convict, criminal, and deeply conflicted character.
Bibliography
The Burke series
Flood (1985)
Strega (1987)
Blue Belle (1988)
Hard Candy (1989)
Blossom (1990)
Sacrifice (1991)
Down in the Zero (1994)
Footsteps of the Hawk (1995)
False Allegations (1996)
Safe House (1998)
Choice of Evil (1999)
Dead and Gone (2000)
Pain Management (2001)
Only Child (2002)
Down Here (2004)
Mask Market (2006)
Terminal (2007)
Another Life (2008)
The Cross series
Blackjack: A Cross Novel (2012)
Urban Renewal: A Cross Novel (2014)
Drawing Dead: A Cross Novel (2016)
The Aftershock trilogy
Aftershock (2013)
Shockwave (2014)
Signwave (2015)
Other novels
A Bomb Built in Hell (1973)
Shella (1993)
Batman: The Ultimate Evil (1995, two-volume graphic novel)
'The Getaway Man (2003)
Two Trains Running (2005)
haiku (2009)
The Weight (2010)
A Bomb Built in Hell (2012)
That's How I Roll (2012)
Short story collections
Born Bad (1994)
Everybody Pays (1999)
Proving It (2001)
Dog Stories (online)
Mortal Lock (2013)
Graphic novels and series
Hard Looks (1992-1993, ten-volume series)
Cross (1995, seven-volume series with James Colbert)
Predator: Race War (199, single-volume graphic novel0
Alamaailma (1997, Finnish graphic novel, based on two of the "Underground" short stories from Born Bad).
Another Chance To Get It Right: A Children's Book for Adults (1993, reprinted with additional material, 2003)
heart Transplant (2010)
Underground (2014)
Plays
Placebo (1991)
Warlord (1994)
Replay (1994)
Non-fiction
The Life-Style Violent Juvenile: The Secure Treatment Approach (1979)
The Child Abuse-Delinquency Connection — A Lawyer's View (1989)
External links
Community content is available under
CC-BY-SA
unless otherwise noted.