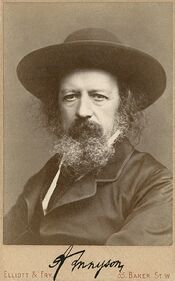 Alfred Tennyson, 1st Baron Tennyson (August 6 1809 - October 6, 1892) was a poet. He was extremely popular during his lifetime in the Victorian period. He was Poet Laureate of the United Kingdom and was buried in poets corner of Westminster Abbey.
Works
Poems

Chiefly Lyrical

In Memoriam

Idylls of the Kings

, a volume of poetry based on Arthurian legend
External links

This article is a stub. You can help the Literawiki by expanding it.