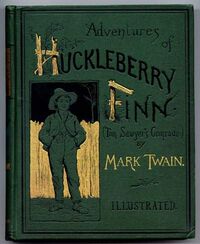 Adventures of Huckleberry Finn , often referred to simply as Huckleberry Finn, is a novel by Mark Twain which was first published in 1884.
Huck Finn is the protagonist. One of his friends is Tom Sawyer (from The Adventures of Tom Sawyer).
Banned
The story is written in dialect and uses language which some people consider offensive. It also shows some of the contradictions in the U.S., a country which lauds freedom, but where slavery was permitted long after it had been banned other places, where "all men are created equal", but racism is rampant. The language, violence and examples of hypocrisy have gotten the book banned in many places. According to Banned in the U.S.A by Herbert N. Foerstel as quoted on About.com it is the fourth most commonly banned book (in the U.S.).[1]
Notice
At the beginning of the book before the story begins, there is a notice:
PERSONS attempting to find a motive in this narrative will be prosecuted; persons attempting to find a moral in it will be banished; persons attempting to find a plot in it will be shot.
Plot summary
After having found gold with his friend Tom Sawyer at the end of their adventures, the gold is put into a trust account. Huck goes to live at the home of the Widow Douglas. Her sister, Miss Watson, and the widow's slave, Jim, also live there. Huck and Jim run away together, traveling on the Mississippi.
Adaptations
Multiple movies and plays have been based on this book.
Trivia
Although many consider this a key work in American (U.S.) literature, it was first published in England.
References
↑ Banned in the U.S.A by Herbert N. Foerstel as quoted on 50 Most Frequently Banned Books" by Jason Chervokas & Tom Watson on About.com
External links
Study guides
Electronic copies
Community content is available under
CC-BY-SA
unless otherwise noted.