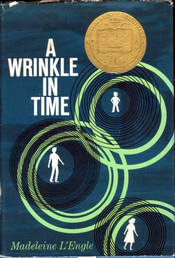 A Wrinkle in Time is a children's science fiction/fantasy novel by Madeleine L'Engle. It was first published in 1962. A Wrinkle in Time tells the tale of thirteen year-old Meg Murry and her friends who get caught up in events with universal impacts.
The novel has been adapted for film and television.
If you like this book, you can continue with A Wind in the Door. You might also want to check out The Chronicles of Narnia by C.S. Lewis.
Awards
Newbery Award
Lewis Carroll Shelf Award
Runner up for the Hans Christian Andersen Award
Adaptations
A TV movie based on A Wrinkle in Time was made by Walt Disney Television in 2003. It was first shown on the ABC network in the United States on May 10, 2004. It stars the Canadian actress Kate Stuart as Meg Murry.
A feature film based on A Wrinkle in Time was released by Walt Disney Pictures in the United States on March 9, 2018. It stars Storm Reid as Meg Murry.
External links

This article is a stub. You can help the Literawiki by expanding it.
Community content is available under
CC-BY-SA
unless otherwise noted.