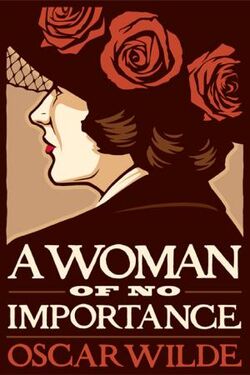 A Woman of No Importance is a play by the Irish writer Oscar Wilde. It is a romantic comedy that satirizes the British upper classes. It was first performed at the Haymarket Theatre in London's West End on April 19, 1893. A Woman of No Importance was commissioned as a direct result of the critical and commercial success of Wilde's 1892 play Lady Windermere's Fan at London's St. James's Theatre and its plot and themes are similar to those of the earlier play.
Most of the action of A Woman of No Importance takes place at an English country house that is the home to an aristocratic woman known as Lady Jane Hunstanton. The majority of the characters in the play are guests of Lady Hunstanton who are joining her at her home for a series of festivities. Those guests include a wealthy American heiress named Hester Worsley, the nobleman Lord Illingworth who has a reputation for being wicked and a woman known as Mrs. Allonby whose personality is very similar to Lord Illingworth's. Another one of the guests is a young man of about twenty named Gerald Arbuthnot. He lives nearby and his mother is a friend of Lady Hunstanton. He is regarded as being of a lower social class than the majority of the other guests because he is obliged to work for a living as a bank clerk. In spite of their differences in social status, Lord Illingworth takes an immediate liking to Gerald Arbuthnot. He offers the young man a job as his private secretary. Accepting the offer would appear to be an enormous advancement for the young man. Not only would it be much better paid than his current job, it would also allow him to leave his small hometown, travel the world and come into contact with many other sophisticated and influential people. Lady Hunstanton invites Gerald's mother, initially referred to simply as Mrs. Arbuthnot, to join her at her house so that she can celebrate the young man's good fortune. It is revealed that Mrs. Arbuthnot knew Lord Illingworth some twenty years earlier, despises him and is strongly opposed to the idea of her son becoming his private secretary.
Of Wilde's four comedies (Lady Windermere's Fan, A Woman of No Importance, An Ideal Husband and The Importance of Being Earnest), A Woman of No Importance is generally regarded as being the weakest. This opinion is held mainly because the first two of the play's four acts are made up largely of the characters making witty remarks to each other with very little happening in the way of plot development.
The play was adapted as the 1921 British silent film A Woman of No Importance, which is now believed to be lost, the 1936 German film Eine Frau ohne Bedeutung, the 1937 French film Une femme sans importance and the 1948 Argentinean film Una mujer sin importancia.
Plot
Act I
The play opens in the gardens of the English country house of Lady Jane Hunstanton. Many guests have been invited there to take part in festivities. Two of those guests, Lady Caroline Pontefract and the eighteen-year-old American heiress Hester Worsley, are speaking to each other. Lady Caroline speaks to Hester in a somewhat condescending manner. She talks to the young American about some of Lady Hunstanton's other guests. They include Lord Illingworth, Mrs. Allonby and a young man of about twenty named Gerald Arbuthnot. Hester comments that she dislikes Mrs. Allonby intensely, an opinion which Lady Caroline does not find it altogether fitting for a foreigner to express. Lady Caroline also thinks it is not quite proper of Lady Hunstatnto to have invited Gerald Arbuthnot to her home since he is obliged to work for a living and is therefore of a lower social class. Hester says that in the United States, people that have to work for a living are the people that they admire the most. Lady Caroline does, however, acknowledge that Lord Illingworth seems to have taken a very strong liking to young Gerald.
Gerald Arbuthnot and Lady Hunstanton enter. Gerald enthusiastically announces that Lord Illingworth has offered him a job as his private secretary. Accepting that offer would make an enormous impact on Gerald's life, not only would it be much better paid than his current position as a bank clerk, it would also allow him to meet many more important and influential people. It would also likely give him the opportunity to travel the world because there are rumors of Lord illingworth becoming a diplomat and even being appointed as British ambassador to Vienna. Lady Hunstanton writes a note to Gerald Arbuthnot's mother, an old friend of hers who lives nearby in the town of Wrockley, inviting her to come over to the house and celebrate Gerald's good fortune. The note is given to a servant to deliver by hand. Gerald and Hester leave to take a walk around the gardens together.
Some of Lady Hunstanton's other gusts enter. The wicked reputation of the still unseen Lord Illingworth is one of the topics that they discuss. Lord Illingworth himself arrives while the others are still talking about him and says, "It is perfectly monstrous the way people go about nowadays saying things about one behind one's back that are absolutely and entirely true." Lord Illingworth is praised for the kindness that he has shown to Gerald in offering to employ him as his secretary. Lady Hunstanton comments that Gerald has taken an obvious liking to Hester Worsley. The conversation consequently turns to Miss Worsley and the source of her wealth. It is suggested that the orphaned Hester's father probably made his fortune by selling dry goods, which Lord Illingworth jokingly says means American novels. The conversation then turns to the United States in general and consequently to politics.
Lord Illingworth and one of the other guests, Mrs. Allonby, leave together. Mrs. Allonby says that Lord Illingworth is going to show her an orchid in the conservatory that is as beautiful as the Seven Deadly Sins.
Lady Hunstanton is handed a handwritten reply from Gerald's mother in which she says that she will come to the house that evening after dinner.
By the time that Lord Illingworth and Mrs. Allonby return, the other guests have gone inside to have tea. The two of them engage in a witty conversation about men, women and marriage. Mrs. Allonby is clearly not a stereotypical 19th century respectable Englishwoman and appears to have a personality very similar to that of Lord Illingwoth. Lord Illingworth and Mrs. Allonby are briefly joined by Gerald and Hester and make small talk with them. After the two young people have gone inside the house, Mrs. Allonby comments that she dislikes the young American woman intensely, calling her a Puritan. Lord Illingworth says that he likes Hester's good looks and innocence. He goes on to say that he does not believe that Puritan women really exist and that Hester, in common with most women in his opinion, would be flattered if he tried to kiss her. Mrs. Allonby says that Hester would probably strike him in the face with a glove if he tried to kiss her. Lord Illingworth replies that he would fall in love with her if she did. Mrs. Allonby says, "then it is lucky you are not going to kiss her!" Lord Illingworth takes that as a challenge in which he is determined to succeed.
On a table, Lord Illingworth notices the letter to Lady Hunstanton from Gerald's mother. he comments that the handwriting in the letter reminds him of that of a woman that he used to know many years earlier. When Mrs. Allonby asks him who that woman was, he replies, "Oh! no one. No one in particular. A woman of no importance."
Act II
The second act open after dinner in the drawing room of Lady Hunstanton's home. The female guests are there alone, the male guests being in the smoking room. Hester Worsley listens silently to the other women's conversation on the topics of men and marriage for some time. Lady Hunstanton forgets that the young American woman is there, before expressing the hope that Hester has been reading a book from the house's large library rather than listening to the talk, which she would almost certainly have found scandalous. Hester confirms that she has been scandalized by the conversation. She then does not hold back in voicing her criticism of English society, with its fixation on social class. Hester also criticized the English for having a double standard in terms of what behavior is considered acceptable for men and for women. She says, "Let all women who have sinned be punished", before adding, " but don't let them be the only ones to suffer. If a man and woman have sinned, let them both go forth into the desert to love or loathe each other."
It is while Hester is saying, "Let all women who have sinned be punished", that Gerald Arbuthnot's mother arrives. Mrs. Arbuthnot initially appears pleased that Lord Illingworth has offered her son a position as his secretary. She admits to not keeping up much with the news and therefore not knowing who Lord Illingworth is. Lady Hunstanton tells her that, before inheriting his title from a somewhat distant relative, Lord Illingworth was known as George Hartford. Mrs. Arbuthnot then says that she wants to speak to her son immediately.
The men enter the room. Lord Illingworth ignores Mrs. Arbuthnot completely and goes directly to speak to Mrs. Allonby. She tells him that Hester Worsley has been lecturing them on her puritanical beliefs. Lord Illingworth reminds Mrs. Allonby that he still intends to get Hester to abandon puritanism simply by kissing her. Mrs. Allonby gives him a week in which to try to kiss the young woman, which he says is more time than he needs.
Mrs. Arbuthnot tries to make her excuses and leave. Gerald, however, insists on introducing his mother to Lord Illingworth first. After being introduced to the nobleman, Mrs. Arbuthnot immediately begins to say that she thinks Lord Illingworth is making a mistake by employing her son because of his lack of qualifications and relevant experience. Gerald and all of the other guests go to the music room, leaving Lord Illingworth and Mrs. Arbuthnot alone.
As soon as they are left alone, referring to Gerald, Lord Illingworth says to Mrs. Arbuthnot, "So that is our son, Rachel. I am very proud of him." It is revealed that there never was a Mr. Arbuthnot and that Mrs. Arbuthnot chose the name, on the grounds that it was as good as any other, to hide the fact that she was the unmarried mother of an illegitimate son. It is also revealed that Mrs. Arbuthnot still bears a great deal of animosity towards Lord Illingworth for having refused to marry her when she became pregnant with Gerald. Lord Illingworth points out that his family offered Mrs. Arbuthnot money, which she refused to take. Mrs. Arbuthnot implores Lord Illingworth not to take away her son, the only comfort that she has had in the past twenty or so years. Knowing that Mrs. Arbuthnot has brought up her son to have a strong traditional sense of moral right and wrong, Lord Illingworth is certain that she cannot tell Gerald why she really objects to the young man leaving with him. If she did so, Gerald would then hate his mother for being a wicked woman.
When Gerald returns, Lord Illingworth says that he will reconsider his offer of employing the young man if Mrs. Arbuthnot can provide any other reason, apart from Gerald's lack of qualifications, that explains why the young man should not become his secretary and leave with him. Mrs. Arbuthnot cannot provide any such reason.
Act III
The third act open slightly later the same evening. Mrs. Arbuthnot having failed to give any reason why her son should not become Lord Illingworth's secretary, Gerald and the nobleman are soon to leave for India together. The two of them are speaking alone together in the picture gallery of Lady Hunstanton's home. Lord Illingworth says he is pleased that Mrs. Arbuthnot finally agreed to let Gerald leave with him. Gerald is also pleased, although he cannot help worrying that his mother was right that his lack of formal qualifications and ignorance of much of life outside of his hometown of Wrockley make him unsuitable for the job. Lord Illingworth reassures Gerald that he will educate him and give him the benefit of his experience, pointing out that he is old enough to be the young man's father. Gerald says that he was very young when his father died and consequently does not remember him. He finds it somewhat strange that his mother never talks about him. Lord Illingworth tells Gerald not to let his love for his mother hold back his ambition. The conversation subsequently turns to the topic of women in general, love and marriage. Lord Illingworth says that he has never been married and does not believe that he could find happiness inside of marriage.
Lady Hunstanton, Mrs. Arbuthnot, Mrs. Allonby, Hester and other guests enter the room. Lord Illingworth continues to voice his unorthodox opinions about men, women, life, society and morality. Lady Hunstanton finds Lord Illingworth's views charming. Mrs. Arbuthnot, however, takes exception to Lord Illingworth's comment that women can forgive men for everything. She says that a man should never be forgiven for ruining a woman's life.
The guest disperse. Lord Illingworth and Mrs. Allonby go outside together to look at the moon. Gerald wants to join them. Mrs. Arbuthnot wants to go home immediately. Gerald, however, still wants to spend more time with the charming Lord Illingworth and insists on at least saying goodbye to him before leaving. The young man proudly tells his mother that he and Lord Illingworth will soon be leaving for India together.
Hester approaches Mrs. Arbuthnot. The young American says she thinks that Mrs. Arbuthnot is different from all of the other women at the house because she gets a sense of goodness and purity from her. Hester hopes that Mrs. Arbuthnot was not offended by what she said earlier about the problems with English society. Mrs. Arbuthnot says that she was not offended. Both she and Hester appear to agree that women and men who have sinned should be punished and shunned by society and that their children should be punished for the sins of their parents. Hester says that she can tell that Mrs. Arbuthnot is not happy about the idea of her son leaving with Lord Illingworth and says that she should talk to Gerald about the matter again. The young American goes out to fetch Gerald away from Lord Illingworth.
Gerald rejoins his mother. She tries again to persuade him not to leave with Lord Illingworth, saying that she has known him to be a bad man for the past twenty years. Gerald points out to her that being employed by Lord Illingworth would give him the financial security he beieves he needs to ask Hester Worsley, the woman he loves, to marry him. Gerald also insists on being given one concrete example of a shameful thing that Lord Illingworth has done. Without naming her, Mrs. Arbuthnot says that a young woman ran away from home and lived with Lord Illingworth many years earlier. Lord Illingworth then got that young woman pregnant, refused to marry her and played no part in the child's upbringing. Gerald feels somewhat sorry for the woman in his mother's story but says that she could not have been a "nice girl" because she never would have run away with Lord Illingworth in the first place if she were. On hearing this, Mrs. Arbuthnot says that she cannot offer ant further objections and that Gerald is free to leave with Lord Illingworth as soon as he chooses.
Outside, Lord Illingwoth tries to kiss Hester. The horrified Hester runs into the room and flings herself into Gerald's arms. She asks for protection from Lord Illingworth. The furious Gerald threatens to kill Lord Illingworth for the offense he has done to Hester. He tells his mother not to hold him back. In order to prevent any violence, Mrs. Arbuthnot has no choice but to tell Gerald the truth that Lord Illingworth is his father. Shortly after this revelation, Hester leaves the room quietly, as do Gerald, his mother and Lord Illingworth.
Act IV
Act IV takes place on the morning of the following day in the house in Wrockley that Gerald Arbuthnot shares with his mother. Lady Hunstanton and Mrs. Allonby arrive just as Gerald has finished writing a letter. Gerald tells them that his mother will not be able to see them because she is unwell. Before they leave, he also tells them that he will not be taking up Lord illingworth's job offer after all.
Mrs. Arbuthnot enters the room. Gerald explains that the letter he has just finished writing is for Lord Illingworth, asking him to come over to their house at four o'clock that afternoon. Gerald again says that he has no intention of ever working for Lord Illingworth. He does, however, want Lord Illingworth and his mother to marry because he considers that to be the only honorable thing to do. Mrs. Arbuthnot insists that she will never marry Lord Illingworth because she despises him. She also has too much respect for marriage as an institution to sully it by entering into a union with a man she hates and to whom she believes she owes nothing. Gerald still maintains that his mother has a duty to marry his father for the sake of her honor.
Hester runs into the room and embraces Mrs. Arbuthnot. The young American says that Mrs. Arbuthnot is not obliged to marry Lord Illingworth. She goes on to say that she, Gerald and Mrs. Arbuthnot can leave England together and live in a better place where people are less judgmental. When Mrs. Arbuthnot points out that she and her son have no money, Hester says that she has wealth enough to support all three of them. She also says that she was wrong before in saying that women who have sinned and their children should be punished and shunned because God's true law is love. Hester and Gerald go out into the garden together.
Lord Illingworth barges into the house and removes his gloves. Now that the truth is out, Lord Illingworth says that he intends to be the "most charming and generous of fathers". Although, since he is illegitimate, Gerald cannot inherit Lord Illingworth's title of nobility, Lord Illingworth plans to leave almost all of his property to the young man. He also suggests the possibility that Gerald can spend half the year with him and half the year with his mother and says that he will pay Mrs. Arbuthnot an allowance of any amount she likes. Mrs. Arbuthnot says that she and Gerald no longer need Lord Illingworth to ensure their future financial security. She shows him Gerald outside with the wealthy Hester Worsley. The two young people are in love and are going to marry.
Seeing the letter addressed to him that Gerald wrote, Lord Illingworth picks it up and reads it, much against Mrs. Arbuthnot's wishes. Having read the letter, Lord Illingworth says that he agrees to Gerald's idea and will marry Mrs. Arbuthnot, even though it means giving up his ambition of being an ambassador. Mrs. Arbuthnot says that she has no intention of ever marrying Lord Illingworth because she hates him and Gerald does too. She points out that it was nothing that she said that caused Gerald to hate Lord Illingworth, rather it was the way in which Lord Illingworth behaved towards Hester.
Realizing that he will not be seeing Mrs. Arbuthnot or Gerald again, Lord Illingworth says, ""It's been an amusing experience to have met amongst people of one's own rank, and treated quite seriously too, one's mistress and one's-." Mrs. Arbuthnot strikes Lord Illingworth in the face with one of his own gloves before he has the chance to say the word "bastard". The startled Lord Illingworth flees. The glove that was used to strike him in the face remains on the floor.
Hester and Gerald come back inside. The three of them again talk happily about their future life together. Gerald notices a man's glove on the floor and asks who its owners is. Mrs. Arbutnot replies, "Oh! no one. No one in particular. A man of no importance."
External links